Tree Company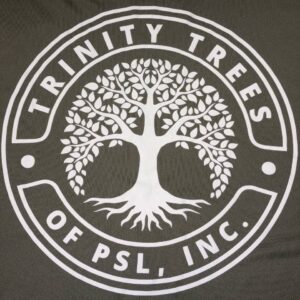 Trinity Trees of PSL has been proudly providing top-notch tree services to the local area for over 6 years.
Our experienced team is equipped to handle a wide range of tree-related tasks, including trimming, pruning, removal, and stump grinding. We also offer lot clearing services for those looking to prepare their land for construction or landscaping projects.
In addition, we specialize in mulching and debris removal, ensuring your property remains clean and beautiful after our work is done. Our skilled professionals are trained in code compliance protocols and can assist with cutbacks to keep your trees in line with regulations.
Customer satisfaction is our top priority at Trinity Trees of PSL. If you have any inquiries or require further information about our services, please don't hesitate to contact us. We are always more than happy to address any concerns or questions you may have.
Contact Us
Services Offered:
Tree Trimming
Tree Pruning
Tree Removal
Stump Grinding
Debris Removal
Land / Lot Clearing
Mulching
Milling
Cut Backs
And more!
Trust us for all your tree care needs
From simple trimming jobs to large-scale land clearing projects. Contact Trinity Trees of PSL today to schedule a consultation or receive a free estimate. We look forward to the opportunity of serving you!
We take pride in our prompt and efficient service delivery, working diligently to meet deadlines while maintaining high-quality workmanship. When you choose Trinity Trees of PSL LLC as your tree service provider, you can expect professionalism, reliability, and exceptional results.
Trinity Trees of PSL has been serving this area for over 6 years. We offer tree trimming, pruning, tree removal, stump grinding, lot clearing, mulching, milling, and cutbacks for code compliance. If you have any questions, please fill free to call. We look forward to doing business with you.